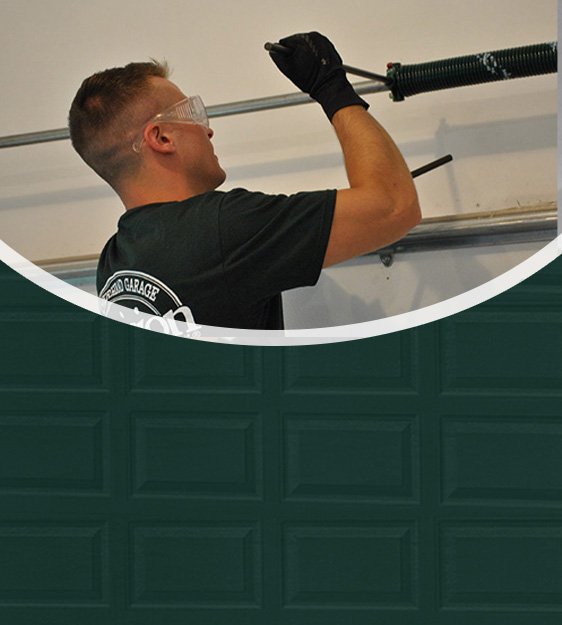 Precision Garage Door Spring Repair of Syracuse
Serving The Entire CNY Area
1(833)454-4500
OUR AVERAGE RATING





WITH 101 REVIEWS
COVID-19 - We're Open
We Are An Essential Business. Click Here To Learn How We Are Keeping Our Customers & Employees Safe.





WITH 101 REVIEWS
Click
to view local phone numbers
(315) 215-6648
(315) 215-6648
---
Syracuse Area





Apulia Station

Delphi Falls

DeWitt

Fabius

LaFayette

Marietta

Memphis

Minoa

Pompey

Tully
(315) 227-2908
(315) 227-2908
---
Utica and Rome Area





Alder Creek

Ava

Barneveld

Blossvale

Boonville

Bridgewater

Cassville

Chadwicks

Clark Mills

Clayville

Cold Brook

Dolgeville

Eagle Bay

Forestport

Fort Plain

Frankfort

Franklin Springs

Hinckley

Holland Patent

Ilion

Jordanville

Lee Center

Little Falls

Marcy

McConnellsville

Middleville

Mohawk

New York Mills

Newport

North Bay

Oriskany

Poland

Prospect

Remsen

Salisbury Center

Sangerfield

Stittville

Stratford

Taberg

Thendara

Van Hornesville

Verona

Verona Beach

Washington Mills

Waterville

West Winfield

Westdale

Westernville

Westmoreland

Williamstown

Yorkville
(315) 236-9980
(315) 236-9980
---
Clay and Cicero Area





Central Square

Cleveland

Constantia

Hastings

Mallory

Parish

Phoenix

West Monroe
(315) 216-7449
(315) 216-7449
---
Auburn Area





Auburn

Aurora

Cayuga

Genoa

King Ferry

Locke

Meridian

Montezuma

Moravia

Mottville

Plainville

Poplar Ridge

Port Byron

Scipio Center

Skaneateles Falls

Union Springs

Weedsport
(315) 257-6930
(315) 257-6930
---
Watertown Area





Adams

Alexandria Bay

Altmar

Antwerp

Belleville

Black River

Brownville

Calcium

Cape Vincent

Carthage

Chaumont

Clayton

Deferiet

Depauville

Dexter

Ellisburg

Evans Mills

Felts Mills

Fishers Landing

Fort Drum

Great Bend

Henderson

Henderson Harbor

La Fargeville

Lacona

Limerick

Lorraine

Lowville

Mannsville

Natural Bridge

Orwell

Philadelphia

Pierrepont Manor

Plessis

Pulaski

Redfield

Redwood

Richland

Rodman

Sackets Harbor

Sandy Creek

Theresa

Thousand Island Park

Three Mile Bay

Watertown

Wellesley Island
(315) 239-4566
(315) 239-4566
---
Oswego Area





Fairhaven

Fulton

Hannibal

Lycoming

Mapleview

Martville

Mexico

Minetto

New Haven

Red Creek

Sterling
(315) 217-5218
(315) 217-5218
---
Oneida Area





Bouckville

Brookfield

Clockville

Deansboro

DeRuyter

Durhamville

Eaton

Georgetown

Hamilton

Hubbardsville

Knoxboro

Leonardsville

Madison

Morrisville

Munnsville

New Woodstock

North Brookfield

Oneida

Oriskany Falls

Peterboro

Sherburne

Sherrill

Solsville

Vernon

Vernon Center

Wampsville

West Eaton

West Edmeston
Precision Garage Door Spring Repair of Syracuse
Serving The Entire CNY Area
Our goal is to service you when you need us and get it done right. This short video explains what we put in place to make sure we can do this for you every time.
All Phones Answered 24/7
Major Credit Cards Accepted
Professionally Trained Technicians
Fully Insured!
We Fix Garage Doors Right!™
---
Torsion Springs vs Extension Springs
The first step in terms of getting your garage door springs repaired or replaced is knowing what kind of spring system you have. There are two main spring systems: Torsion Springs and Extension Springs.
Torsion springs are located above the opening of your door with springs that slide onto a bar. Extension spring systems can be found alongside the opening of the door. It's important to know whether or not a garage door company provides service for your needs. Precision's professionally trained technicians are fully equipped to work on torsion and extension spring systems.
Call today to have a professionally trained technician repair you garage door today!
Precision Spring Repair Best Practices
Every homeowner can relate to how life's inconveniences are thrown at you at the worst possible times. The last thing you want to happen is have your car stuck in the garage when you need it most, especially when it's only been a couple months, weeks, or even days after your last garage door repair! That's why Precision leads by example and follows the industry's best practices in order to make the best recommendation to homeowners each time we step foot in a garage.
Best Practice #1 - Replacing Both Springs
Most garage doors have two springs installed at the same time, when one breaks it's safe to say the second spring's life expectancy has just about expired. In order to save you from future inconvenience, unsafe garage door practices, and damaging your garage door opener, Precision will usually recommend to replace both springs. If you've had the same tires on your car for a while and one blows out while you're driving, wouldn't you replace them both? It's extremely important to properly maintain equipment such as garage doors and automobiles.
Best Practice #2 - Using The Right Springs
Since garage doors come in all weights and sizes, the right springs need to be installed in order to properly balance the door. If a technician puts the wrong spring on your door, not only will this damage your garage door system, but it will cause the garage door opener to do more work than it was built to do. This is why Precision technicians only install the right springs for the door's weight and check their work by performing a balance test.
Best Practice #3 - Safety Inspection
With every spring repair, Precision provides a free safety inspection to make sure all the hardware and moving parts on your door are in good working condition and meet safety standards. Since the hardware was probably installed at the same time as the springs, it's possible there are worn mechanical parts on your door that are in an unsafe state. Think about spring failure as a symptom to a possibly larger problem with your door. This is why it's a Precision Best Practice to provide a free safety inspection and maintain a safe environment for our customers.
Call Precision today for garage door spring repair!
---
Why Precision's Spring Repair Transcends The Competition
In a 72 hour salt spray test performed by a third party research company, only Precision's Green Powder Coated Springs proved to be 100% resistant to corrosion.
---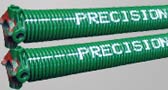 Precision installs a weather resistant powder coated spring to prevent corrosion and friction. We believe in our springs, so we put our name on them and we back them up with the industry's best warranty.
---
What Makes Our Springs Different
Just like car tires are rated by miles, garage door springs are rated by an estimated number of cycles (1 cycle = your garage door going up AND down 1 time). The springs used by our competition range anywhere from 5,000-10,000 cycles, whereas we use a high-grade steel spring rated for 25,000-50,000 cycles! This is why we can offer lengthy guarantees on our springs for as long as you live in your home.
Call Precision now for Garage Door Spring Repair!
Tell Me More About The Warranty
When a company tells you they're providing you a warranty of only 30 days-2 years, it means they could be using cheap hardware, or they are performing a repair they don't expect to last. We can provide up to a 10-year warranty on the hardware we use because it's superior to a traditional garage door company's hardware in a number of ways. We're so confident that our springs won't need replacing, if by chance one does break, our name is on the spring to remind you to call us to replace it under a warranty that also covers the labor!
Call Precision today to learn more about our warranties!
How Much Does Spring Repair Cost?
The most common question we get over the phone is, "Okay, so how much does it cost to replace garage door springs?" To give you an exact price quote, we would need to know the size of the door, weight, and type of garage door springs needed (torsion or extension). Since we carry over 30 different types of springs to account for all the different types of garage doors, we recommend that a professionally trained technician takes the proper measurements himself before giving you an exact price quote.
Call Precision today to have a professionally trained technician give you an estimate on garage door spring repair!